Get your copy of Stay Or Move? now for only $25.90
Award winning book!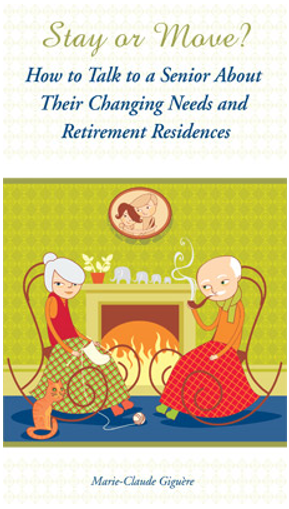 This book was born from Marie-Claude's experiences working in close proximity with seniors and families at a very delicate time in life, and her intimate knowledge of privately run retirement residences and the industry that surrounds them. She has personally visited close to 400 private facilities, mostly located in the Greater Montreal Area and some located in the United States, and Europe. Her first guide, The 65+ Key Questions to Ask When Looking for a Residence, offers more in-depth information about private retirement residences.
Synopsis
A loss of autonomy, a major change in life or a crisis situation can make it clear that something in the present living arrangement has to change.
As a caregiver, friend or family member, broaching this issue with your elderly loved one may seem overwhelming, but there are steps you can take to make the process smoother and more comfortable. This guide presents those steps one by one, covering topics that include:
How to assess the situation and assist your loved one in making the best decision
What to expect from a retirement residence
How to initiate a conversation with your loved one
How your elderly loved one may be feeling and what they may be thinking
Families often tell me "She/he is soooooo stubborn." But aren't we all? We each have our own likes and dislikes, our own certain way of doing things, and our own personality with our own internal narrator." – Marie-Claude Giguère
Marie-Claude Giguère has worked with seniors for nearly two decades, both in retirement residences and in helping seniors relocate.
"Marie-Claude manages to capture the fear many seniors experience as they begin to lose their autonomy while simultaneously giving families permission to trust themselves and to reframe their guilt. I recommend this guide to families, caregivers, seniors, and health care professionals." – Stephanie Erickson, Social Worker & Director of Erickson Resource Group
Award winning author!
In November 2014, this title received Finalist in the Health: Aging 50+ category of the USA Best Book awards. About these book awards: 'Our stellar industry judges highlight and award entered titles based on design, content, and overall appeal.'
2012 winner of the silver medal in the Care Giving category in the Living Now, Books for Better Living Awards. Living Now Book Awards are designed to honor life-changing books, awards are open to all books that are written in English and that are appropriate for the North American market.
5 Star book reviews for Stay or Move?
Clarion gives this book a 5-star review:
…Giguère writes as though she is joining you at your kitchen table over a cup of coffee. This conversational style helps to ease the fears associated with how to best aid an elderly loved one in the next big step in his or her life.
To read the full review, please click here
Portland gives this book a 5-star review:
Giguère's topics are timely and questions relevant when applied to this major transition that, sooner or later, everyone must face. It is commendable that the author never overlooks an individual's own uniqueness (there are no cookie cutter solutions) and the all important insight of following one's own intuition or "gut feeling" about certain circumstances.
To read the full review, please click here
Table of contents
Introduction
Introduction page 2
Introduction page 3
Translation
Q: Why the Elephant?
A: In case you were wondering, here is the story about how the picture of the elephant gained importance in this guide.
There is a short paragraph in the book that says 'should you want to eat an elephant for dinner, do it one bite at a time'. My graphic artist received all the content and started to do the layout with images that supported the text. Once I received the draft back I thought it was ingenious of her to have put an elephant at the bottom of that page, but where did she get that image from? Why that particular elephant? I thought I had seen them somewhere before, but where? I asked her. Look at the image on the front cover, the elephants are on the mantle. I thought that was totally cool, because the elephants have been there from the start, one of the first things we did was choose that cover image! So the elephant stayed there until the end, he found his place.
Once the draft was nearing the final stages, before print, I felt that once the reader had finished reading this book that they have taken a bite out of the elephant so I asked my graphic artist to take a bite out of the elephant. And then my editor suggested a wallpaper of elephants. So there you have it!
Furthermore, speaking about a loss of autonomy or the ageing process is often like the elephant in the room. Putting all of that together makes it perfect for the elephant to provide support to this document.
Get your copy Stay Or Move now for only $25.90
Send us your review or comment
You have read Stay or Move? How to Talk to a Senior About Their Changing Needs and Retirement Residences, and would like to share your comments with us? We would love to hear from you.