It's Not About Placing Seniors
Scope of the project
Facing a loss of autonomy at any age is challenging. Marie-Claude Giguère, Founder of Helping Seniors, strongly believes that if we pay attention to the language used when a senior faces a loss of autonomy it can change the next step in life from being negative to being more positive, when relocating is considered. For some reason the term is to 'place a senior' or I put my Mom' in a retirement residence. Giguère is on a worldwide mission to bring attention to that one term so that we move away from 'placing', 'put'or 'putting' and move towards helping a senior relocate, move or find solutions. It is with strong conviction that should we change our language we can change the whole approach on ageing, as seniors are not an object to be placed on a shelf. This message is easier to deliver to children who have not yet been tarnished by the current language. The book is addressed to a young reader of about 6 to 8 years old in hopes that they will read the story with their parents which will spread the message more rapidly to open up a conversation that brings on change.
The book will be self-published in French (La Place de Mamie) and English by Helping Seniors which will include 20-30 illustrations and be approximately 72 pages long.
Synopsis of book
While Dad is away on a business trip, 9-year-old Sam stays at Gams' house. Over the next two weeks, she and Gams share quality time and grow closer together. Gams' home is both fascinating and scary. The old house is filled with a lifetime's worth of treasures.
Sam looks up to her Gams, a great cook and an expert gardener, but is saddened as she sees her grandmother struggling to do things that once came so easily. She notices that the big house is getting to be too much for Gams to manage; the stairs are getting harder and harder to climb. When Dad returns, Sam knows, she must find the courage to share the struggles she's seen with him.
Mad? Furious! is how Sam feels when she hears how her father speaks to his mother about the challenges Gams is facing. He tells her that he needs to "place" her. This sounds all wrong to Sam. Gams is not and never will be an object to be "placed!"
How about we all pay attention and change the language we use when a senior faces a loss of autonomy?
Illustrations (see an example above)
Marie-Claude has taken art courses at the Visual Art Center in Westmount and participated, fall 2014, in a week long drawing marathon at the New York Studio School (NYSS), for which students must provide images of past work and are interviewed before being accepted. The goal of signing up for the marathon was to help determine what type of illustration would work best for this project. During the last exercise which was to create a collage after a challenging week of struggling with paper and pencil Marie-Claude realized that the collage is where she flowed best and could capture a better image that is easy to read. Giguère has been taking the Personal Projects course with Renée Duval and Michael Merrill, the later has become her artistic mentor for the illustrations. So using water colours on Arche paper that is easy to rip (no scissors allowed!) all the illustrations are a collage in an 18 x 22 format.
Grandma's Place
(working book title)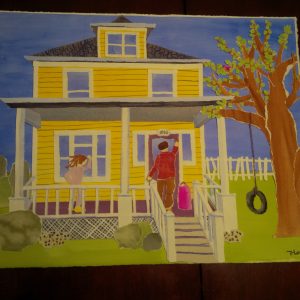 Creating the illustrations
Coming soon! A short video on the creation of the illustrations.